Liter "D"
Date of Birth - 06.07.2007

Litter: 1 gavana male, 3 females (2 ebony, 1 gavana)

LV*Bua Luang Ichechi (ORI c 25)
sir: ICh. LV*Bua Luang Hamaguchi
(ORI c)
dam: Ch.Naomi von Meeresgrund*CH
(OSH ns 25)

Ch. Arina Bagheera Shimaya (ORI n)
sir: ECh.Bogdan Porcelain Cat of Luana (ORI n 24)
dam: Ch. Sunflower's Bagheera of Shimaya
(ORI n)


Damian Arina Shimaya, gavana boy
(ORI b)
sold

Danielle Arina Shimaya, gavana girl
(ORI b)
stays with us

Diana Arina Shimaya, ebony girl
(ORI n)
sold

Daisy Arina Shimaya, ebony smoke girl
(ORI ns)
sold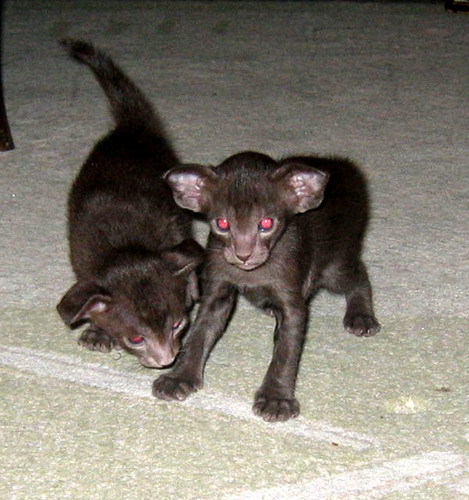 Danielle&Damian

Contacts:
Tatiana Sukhanova Ц the owner of the cattery, Moscow, Russia
e-mail: bagheeraorient@mail.ru

December, 05, 2016
We finaly updated our cattery's web site! The new breeding cats are represented on the pages "Kings" and "Queens".