Date of birth: october, 9, 2006

Ch. Manalishi's Fade To Black
(ORI n)
sir: Unchat du Soleil Noire of En Tenere (ORI n 25 03)
dam: Donnatella von der Focke (ORI b)
breeder: Petra Lerch
owner: Svetlana Kustova, "Jungle" cattery

Ch. Sunflower's Bagheera of Shimaya
(ORI n)
sir: Ch. FIN*Arhantin Coppola (SIA n)
dam: Ch. Great Eastern's Barbie (ORI bs 24)
Brice Bagheera Shimaya, ebony male (ORI n)


Brayar Bagheera Shimaya
ebony male (ORI n)

Brendon Bagheera Shimaya, chocolate male (ORI b)

Barbara Bagheera Shimaya, ebony female (ORI n)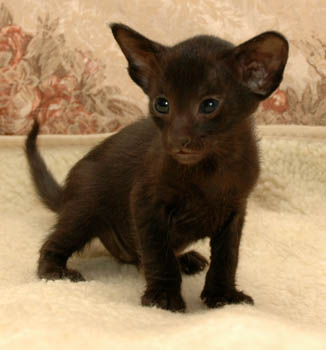 23 days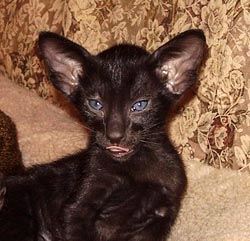 6 weeks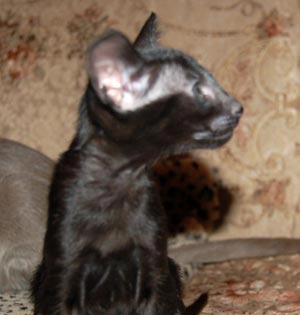 6 weeks



8 weeks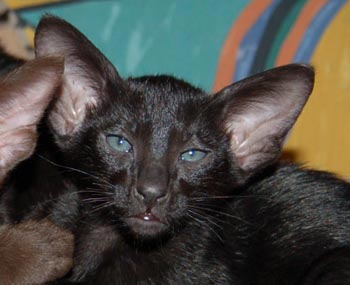 8 weeks

Parents:

Ch. Manalishi's Fade To Black
(ORI n)
sir: Unchat du Soleil Noire of En Tenere (ORI n 25 03)
dam: Donnatella von der Focke (ORI b)
breeder: Petra Lerch
owner: Svetlana Kustova, "Jungle" cattery

Sunflower's Bagheera of Shimaya
(ORI n)
sir: ECh. FIN*Arhantin Coppola (SIA n)
dam: Ch. Great Eastern's Barbie (ORI bs 24)
Contacts:
Tatiana Sukhanova – the owner of the cattery, Moscow, Russia
e-mail: bagheeraorient@mail.ru

December, 05, 2016
We finaly updated our cattery's web site! The new breeding cats are represented on the pages "Kings" and "Queens".